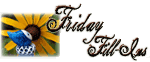 Yay! It's Friday again. Time for
Friday Fill-ins!
No weekend visit to or from my sweetie, but it should be a nice weekend! Have a great weekend everyone!
1. The
answer to the problem
had an extra secret ingredient; it was
prayer and patience
!
2.
Sunshine comes flooding in on Saturday mornings
through my window.
3. Right now, I need
sleep! And money!

4.
To meet Steven and have dinner
is where I went Thursday night; it was
great, even if our time together was short.
5. Why does
heartburn
hurt so much?
6. All I can think of is the
last day of school. May it come quickly.
7. And as for the weekend, tonight I'm looking forward to crashing at home, tomorrow my plans include
cutting the grass, cleaning my bedroom, and taking pictures of Joseph going to his Senior Prom,
and Sunday, I want to
celebrate Mother's Day with my mother, my sister, and my kids!
What are YOUR plans for the weekend?
J.