Hey everyone, it's FINALLY Friday! T.G.I.F.! It's a "kick back" Friday night for me. The two older kids are out doing their own things, and the two younger boys are holed up in their room playing Wii, so I am somewhat on my own for the evening. We had a yummy catfish dinner and now I am kicked back on the couch with the laptop, the remote, and some iced tea. So, for this Friday's post, I am taking a cue from my friend
Lisa
, and doing the "Friday Fill-in".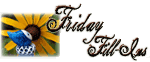 Friday Fill-Ins #63
1. Contact may cause
feelings of warmth and security.

2. The parties hereto do mutually agree
to stay the hell away from each other as much as possible. (sorry, flashbacks to my divorce!)

3.
Disney parks
are fun! My favorite is the Magic Kingdom. I want to go back.
4.
Warm chocolate chip cookies
sound really good right about now!5. I positively
love my boyfriend!

6.
Flowers
always make me smile :-)7. And as for the weekend, tonight I'm looking forward to
watching "Numbers",
tomorrow my plans
include
cleaning, and taking Aaron to see "Horton Hears a Who",
and Sunday, I want
to
go to my brother-in-law's 40th birthday cookout
.
Happy Friday, folks!
J.