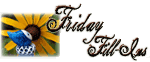 1. Some relationships are meant to
be a lot of fun!
2.
Rascal Flatts
is the last concert I saw; it was
pretty good
.
3. Spring should be
full of flowers (see below).
4. Oh no! I forgot
to sign Aaron up for soccer!
5. I've recently started
doing crossword puzzles.
6.
Reading blogs (see yesterday's post)
never fails to make me smile.
7. And as for the weekend, tonight I'm looking forward to
going to see Sugarland with Steven at the truck show
, tomorrow my plans include
picking up Rachael from the airport
, and Sunday, I want to
catch up with my daughter and relax
!
I have not had any time this week to include a picture of these beautiful tulips that Steven sent me Monday just to cheer me up, in case I was down about Rachael being gone, and to let me know he loves me! It was such a terrific surprise!
Please check out Thursday's blog for my list of my favorite girl bloggers! If you're a chick and you stop by here regularly, you're probably on there!
Happy Friday!
J.