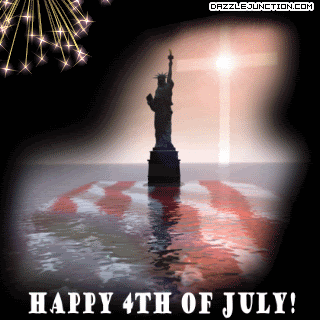 Independence Day Graphics
-
Myspace 2.0 Layouts
Well, it WAS my birthday. Yesterday. I was.....um....(whispering)....46. No, I'm not hung up on age, but 46 IS closer to 50. God, help me.....50! I know I don't look my age, and I definitely don't FEEL my age, but that doesn't change the fact that I AM my age!
My birthday was great, from start to finish. Daniel (16 yr.old) made me scrambled eggs for breakfast and delivered them to me in bed. Rachael gave me a Starbucks gift card - she knows what I like! Aaron gave me new sunglasses and a DVD. And my parents gave me some money AND my mom baked me a fresh blueberry pie! Yum!
Through Facebook I have discovered a high school classmate of mine was born on the same day in the same hospital. We hardly knew each other in high school but we've gotten to know each other really well via Facebook and phone calls, so we decided to have a birthday lunch together. It was great! We are so alike, it's scary.
So, first there was the birthday lunch. Then I was treated (by a friend) to a facial, more specifically a glycolic peel. It was like a massage for my face. As I've gotten older, my skin color has become more uneven. I don't like to go out without makeup because I look so blotchy. But the beautician assured me that with 5 or 6 "peels" (one a month), I should be rid of the discoloration on my cheeks. I am definitely going back.
Then Steven arrived in town and Aaron, Steven, and I went out to dinner. My gift from Steven was my laptop, which I dearly love. The best gift was Steven himself and being able to snuggle up next to him at the end of the day! The day ended with a "happy birthday" phone call from Joseph. I miss him very much, but he is so happy with his summer job.
All in all, a great birthday, even if I'm not all that thrilled with the number.
Have a great 4th of July weekend!
J.