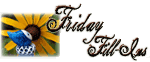 1.
Right now, I'm feeling
tired
.
2.
Asleep in bed (with Steven)
is where I want to be
.
3.
How does one
eradicate years of accumulated clutter quickly and effeciently
?
4.
The desire to "get my act together" personally, professionally, and psychologically
keeps me on track.
5.
Please don't
categorize me, especially as a "divorced woman" or as a "single mom". I HATE that.
6.
Making a difference in the world, in a big or small way
,
fills me with joy.
7.
And as for the weekend, tonight I'm looking forward to
welcoming our new French exchange student
,
tomorrow my plans include
some "me" time,
and Sunday, I want to
get caught up around here (don't I say that EVERY weekend?)!
Have a great weekend, everyone!
J.