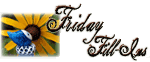 1. One of the best concerts/plays/movies I ever saw that I really didn't think I'd like was
"Ironman".
2.
Crunchy chicken from a Weight Watchers cookbook
is a recipe I recently made that was delicious!
3. It's time for me to
start planning for Christmas.
4.
The weather lately
has been quite refreshing.
5. If I never hear the word
"maverick"
again, it'll be too soon.
6. To one side of the curving road was
an optimistic outlook
, and on the other was a
scary reality
.
7. And as for the weekend, tonight I'm looking forward to
going to see Rachael's play
, tomorrow my plans include
lots of cleaning and going to Harvest Homecoming
, and Sunday, I want to
go to church with my children and take it easy
!
I am sooooo glad it's Friday. I don't know if Steven will be coming through yet. My parents are having a good time in Switzerland. Joseph will be hear tomorrow and Sunday for Harvest Homecoming. That's about it.
Have a great weekend,
J.