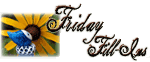 1. There is no need to
explain.
2. Where in the heck did
the last couple of posts go? (wink)

3.
Housework and phone calls this week
is all I managed to do.
4. Prospects for
the future are a mystery.

5.
Live for the moment
is the message.
6. Simplicity and tranquility are
found in nature (like beautiful fall leaves).

7. And as for the weekend, tonight I'm looking forward to
hanging out with my kids
, tomorrow my plans include
a soccer game and the school's Fall Festival
, and Sunday, I want to
get ready for FINALLY going back to work
!
Every year September 19 is
"Talk Like a Pirate Day".
I usually laugh it off and pay little or no attention to it. But TODAY I was listening to the local country radio station on the way home from dropping off the boys at school, and the DJ invited people to call in to take a silly pirate Jeopardy quiz and win some prizes. So I called in and I got through! The questions were: "Name the procedure used to save people" (
CPRrrrrrrrrr
), "We usually get around in this" (
a carrrrrrrr
), and "You keep jelly in this" (
a jarrrrr
).
So, guess what I won?
3 days worth of tickets to the Ryder's Cup Golf Tournament, which is here in Louisville this weekend AND 2 tickets to see "Larry the Cable Guy" when he is in Louisville in November AND "meet and greet" passes to meet him! I completely flipped out (in a good way)! I sold the Ryder's Cup tickets for $175 today through Craig's List. And I am totally pysched about having great seats to see a hilarious comedian AND we get to meet him. I have made an official date with Steven. It will be hard to wait for November for this!
For some hilarious pirate jokes, try
HERE
. "Talk Like a Pirate"Day is now one of my FAVORITE holidays!
Have a great weekend!
J.