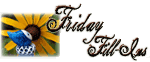 1. If I was to walk into your life,
would you take my hand and walk with me?
2. Catch a bright star
and make a wish for a miracle.
3. And you can send me
lots and lots of flowers, for no reason at all.
4. When I am faced with my ex-husband I try to forget,
but I'm dealing with a memory that never forgets.
5. I'm the innocent bystander / Somehow I got stuck
with all the fun!

6. What's keeping us apart isn't selfishness, it's
diesel fuel.

7. And as for the weekend, tonight I'm looking forward to
going to bed early

,
tomorrow my plans include
a soccer game and a short visit from Steven,
and Sunday, I want to
go to ANOTHER soccer game and do lesson plans!
****************************************************************
Happy Friday everyone! This has been a hell of a week! I am sooo tired. I was out late Wednesday night with "Back to School" night at Rachael's high school and Open House at my school Thursday night. Steven and I went shopping last weekend for some professional clothes for me
(thank you, hon!)
and so I went to work Tuesday, Wednesday, and Thursday in heels (moderate) and dressy clothes. I got lots of compliments, but I was ever-so-glad for "dress down day" today at school. I'm much more comfortable in jeans and tennies. Lots of drama at work with a co-worker under scrutiny, but I found out today that I was unknowingly being "checked" as well and I passed with flying colors. Yay me!
Good news: Joseph tried out for the "Singing Hoosiers", the traveling choral performance group at IU and made it! They only accept 80 students, so we were all really pleased for him. He is very excited! He seems to be doing very well in his first week of classes.
Rachael is doing well in all classes (4 honors classes and a stiff grading scale) and has earned the spot of "assistant director" for the Fall Show. She made an excellent chocolate pie for a school project, and it was delicious.
Daniel is doing well with his broken ankle. He can have it x-rayed in 2 weeks. He has been a real trooper, going to every practice and every game. He is literally itching to get back on the field and hit someone!
Aaron is doing okay in 3rd grade. He is still struggling with making friends, but a new boy, Dominic, is in his class and also on his soccer team. He is happy to have a friend. First soccer game: tomorrow at 2:30.
***************************************************************
Just in case you were wondering, this is NOT me.

(arrow pointing to picture of Christie Brinkley)
***************************************************************
And finally, a quote I found that I really like:
"We come to love not by finding the perfect person, but by learning to see an imperfect person perfectly."
- Sam Keen
So true.
Have a great weekend everyone,
J.