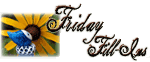 1. The last meal I had at a restaurant was
tonight! Panera bread with my oldest and my youngest.
Delicious.

2.
Being lied to
is something I intensely dislike.
3. The full moon
reminds me that "somewhere out there, someone is thinking of me".

4.
"Hey y'all"
is one of my favorite local expressions.
5. Sometimes it's best to
just smile and suck it up.
6.
"The Dark Knight"
is the best movie I've seen so far this year!
(But "Wall-E" is a close second!)

7. And as for the weekend, tonight I'm looking forward to
going to bed early
, tomorrow my plans include
hopefully, going to a movie even if it's by myself
, and Sunday, I want to
catch up on housework and doing my school work!
Have a great weekend everyone. First week down.
J.