Hey everybody! It's Friday! Today was my first day back to work, and it wasn't too bad. My principal was surprisingly bitchy...new rules about using (or more accurately NOT using) cell phones during the work day and snippy little remarks about dressing professionally, even though the contract says she can't technically set a staff dress code. Other than that, it was good to see everyone. I think it's going to be a good year.
Here is this week's Friday Fill-ins: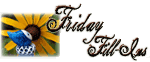 1. You know you're old when
...hmmm...I don't know how to answer this one. I'm not old! (smile)
2. My heart is divided between
developing myself as a person and partner
, and
being a totally devoted parent
.
3.
A large thin-and-crispy veggie pizza
is what I need RIGHT NOW!
4. I have felt
the joy of true love
, I have known the depths of
divorce.
5. Gah, won't these people
please clean up after themselves!
6.
Please call me or come visit me
as soon as you can!
7. And as for the weekend, tonight I'm looking forward to
doing nothing
, tomorrow my plans include
my back-to-school dinner and Daniel's football jamboree
, and Sunday, I want to
spend a little time with my kids before the craziness of next week begins
!
Have a great weekend, everyone!
J.