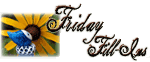 I usually love Fridays, especially payday Fridays like today. But today doesn't feel like Friday. I have been kind of drifting along all week, and today, due to being awake with an upset stomach last night for 2 hours (approx. from 1:45-3:45 AM), I haven't had much "oomph" for anything. There were several things I needed to get done today - did I do them? No. I did one important thing: take Rachael to the doctor for a check on a rash on her leg, which turned out to NOT be a rash, but psoriasis (sp?). And I got to help on the interview team for our new kindergarten teacher at my school and for the teacher who will take MY old job. But after lunch, I lost steam fast. And have accomplished absolutely nothing, except take a nap. Hmmph. On top of all that, Aaron has been clinging to me like glue since he got home Tuesday night. And I understand, I really do. But geez oh Pete - find something to do with yourself, child. I need some breathing room!! Anyway, we are going to see Wall-E in a few minutes, that should
shut him up
be suitably entertaining.
And did I mention I miss Steven? Um, well, I do. Tons. I spent 17 straight days with him, and now I'm going through withdrawl. He is still in Texas, headed for North Dakota by Monday. Heartbreakingly, there was a load from where he was straight to Louisville, but it didn't pay enough. When will these people notice that
the price of diesel is no longer $2 a gallon
? Sheesh!
Anyway, it's time for
FRIDAY FILL-INS!
YAHOO!
(I know, you can just FEEL the excitement, can't you?)
1. Oh, I can't wait until I have
enough money to buy a new washer and dryer
.
2.
How much milk we have (or don't have)
is the first thing I see when I open my refrigerator.
3. I never leave home without
my iPhone (duh!).
4. If I were a condiment, I would be
ketchup
because
I'm basic, but a little tangy, and I go great with fries!
5
. Rudeness
is really high up on my list of pet peeves.
6. The last thing I thought of before I went to bed was
I miss Steven.
7. And as for the weekend, tonight I'm looking forward to
seeing Wall-E
, tomorrow my plans include
um, housework?
and grocery shopping
and Sunday, I want to
get organized for the week.
Have a great weekend!
J.