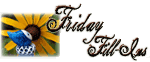 1. Birthdays are
usually fun. (Someone special has one coming up soon - hint, hint).

2.
Fall
is my favorite season because
I love sweatshirts, pumpkins, and orange.
3. I feel my best when
I'm on task and reasonably organized.

4.
Chocolate
is my favorite food!
5. First impressions are
very important.
6. The best piece of advice I ever received was
don't rush into anything
.
7. And as for the weekend, tonight I'm looking forward to
hitting the road with Steven
, tomorrow my plans include
who knows?
and Sunday, I want to
do more of the same!
Have a great weekend, everyone!
J.
PS. Last night Steven and I had our first Blogger meet: we had dinner with SushiBoy and his terrific wife, Superwoman. It was so much fun! Pictures to come!