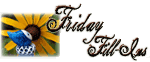 1. A smile is
the best!
2.
SCRABBLE
is my favorite board or card game. (But I'm also starting to like Yahtzee and Spades)
3. I would love to have more
Steven
in my life and less
mess! This house is a constant revolving mess!

4. When I think of the Summer Solstice, I think of
E.Craig! He's a "Happy Summer Solstice" kind of guy!

5. I just remembered I need to
pick up a prescription.
6. One of my favorite song lyrics goes like this:
"Somewhere, out there, beneath the pale moonlight, someone's thinking of me, and loving me tonight."
7. And as for the weekend, tonight I'm looking forward to
spending time with my kids
, tomorrow my plans include
taking the boys to Indianapolis and meeting Steven
, and Sunday, I want to
ride with Steven to Utah
!
Yep, that's right, folks! Road trip time is FINALLY here! I am meeting Steven tomorrow in Indianapolis and we are hitting the road!
Have a great weekend!
J.