Hey everyone. Feeling a little better, but still heading to bed early every night. I'm off to another exciting day of math training!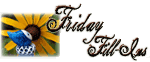 1. Idle hands are
most likely asleep
.
2. I love
singing
in the shower.
3. My favorite time of the day is when
I can sit on the front porch swing and relax
.
4. The last tea I drank was
hot tea with honey and lemon for my cold last night
.
5. I like to
read
in the Summer.
6. My mother always said
"you talk too much!" (I'm an extrovert in a family of introverts!).
7. And as for the weekend, tonight I'm looking forward to
making dinner (new recipe, new baking dish)
, tomorrow my plans include
trying to catch up on housework, if this cold will ever go away!
and Sunday, I want to
make a plan for the week
!
Have a great Friday and a great weekend!
J.