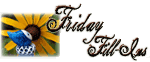 It's Pay Day
Friday
! Yahoo!
1. Two of my favorite ingredients in a drink are
chocolate and coffee
!
2.
Life and love
often amaze me.
3. You can keep doing that forever, the dog is
not going to come unless it wants to
.
4.
Take some pasta, olive oil, parmesan cheese, and hot garlic bread
, mix it all together and voila! You have
the perfect dinner!.
5. If I had a yard with a garden, I would love to grow
all kinds of flowers, especially sunflowers and roses
.
6.
Um....time with a certain special person (wink)
is best au naturel.
7. And as for the weekend, tonight I'm looking forward to
a day off with no kids
, tomorrow my plans include
not sure yet but I hope it has to do with spending time with Steven
, and Sunday, I want to
either drive home from seeing Steven or go to Daniel's track meet
!
Have a great weekend!
J.