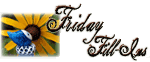 Yay, it's Friday! Thank God! It's time once again for
Friday Fill-Ins
:
1. When I fell in love,
it was the best thing that ever happened to me. I think you all know who I mean! (grin)

2.
I love it
when the flowers bloom and it heats up outside!
3. Oh no! The internet connection is down,
get out of the way! The teenagers are going to explode!

4.
"WKRP in Cincinnati"
is the craziest tv show ever.
5. Cheese
and pasta and olive oil and garlic bread
make a great meal!
6.
I miss having
a garden.
7. And as for the weekend, tonight I'm looking forward to
going to see Joseph and Rachael in "Peter Pan"
, tomorrow my plans include
Aaron's First Communion!
and Sunday, I want to
collapse! But what I will do instead is go to Daniel's track meet and then his soccer game
!
For extra added excitement this week, we had a visit to the emergency room last night. After getting back from Daniel's induction into National Junior Honor Society (more on that later), Daniel and I were changing clothes so we could all go out to eat. Aaron decided to take a quick ride on his scooter while he was waiting for us and had a meeting with the pavement. He put a deep cut in the palm of his left hand and off we went! 2 1/2 hours later (yes, it took THAT long), we left with 3 stitches in his hand. He was very brave and very curious. He watched them give him the numbing shot (which I could not), clean the wound (which I could not), and do the stitches (definitely not). My job: to sit on the other side and hold his hand.
Anyway, he's fine. My biggest challenge: keep his hand clean for the next two weeks!
Have a great Friday and a great weekend all!
J.