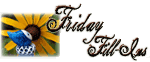 1. Follow the
full moon.
2.
I can't answer this one because I never get to go on real vacations
is something I always take with me on vacation.
3. To achieve your goals, you must
constantly re-evaluate your life, and adjust accordingly.
4.
I really, really want to get down to 170 pounds
is something I'd like you to know about me.
5. I have
a very complicated life, which may well result in me being single for the next 10 years
. *big sigh*
6.
Ivory soap
floats.
7. And as for the weekend, tonight (Friday) I'm looking forward to
working the gate at the football game (yeehaw!),
tomorrow (Saturday) my plans include
hopefully time with Steven, but if not lots of cleaning
, and Sunday, I want to
go see Joseph sing in "The Singing Hoosiers" because they're coming to the high school
!
Have a great weekend!
J.