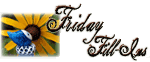 1. If I could travel back in time, I'd go to
1985 so I would NOT marry my ex-husband, or at the very least make sound financial decisions.

2. Give me
money
or give me
a new van
.
3. I am listening to
the TV cartoons.
4. Somewhere, someone is thinking
I'm hopeless (possibly more than one today).
5. I'll always be
in debt
.
6. My idea of a good time includes
going out to dinner and going to a movie, then home for talk and snuggles.
7. And as for the weekend, tonight I'm looking forward to
playing with the truck before I take it back
, tomorrow my plans include
nothing yet
, and Sunday, I want to
go to church and read the Sunday paper!
Just a thought: Just because something is true doesn't mean you should say it or a person wants to hear it.
J.