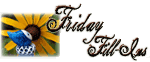 1. When I'm sick I
retreat to my bedroom and sleep.

2. When I take a walk, I think about
everything!

3. Money can't buy happiness but it can
buy flowers and Chinese takeout.

4. Cotton makes me
feel comfy
and leather makes me
feel warm.
5. The strangest person/character I've had lewd thoughts about was.....
I'm sorry, I can't tell you, it was too weird.
6. My favorite color these days is
dark pumpkin orange
because
fall is coming.
7. And as for the weekend, tonight I'm looking forward to
an evening at home on my own
, tomorrow my plans include
STEVEN!!
and Sunday, I want to spend
MORE TIME WITH STEVEN!
Have a great Labor Day weekend!
J.