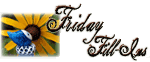 Oh man, where has the week gone? It's Friday again already! Time for
Friday Fill-Ins
:
1. The last time I lost my temper I
cussed at my kids, dammit!

2.
Ungrateful teenagers
is what I'm fed up with!
3. The next book I'd like to read is
the new David Baldacci novel.

4.
My tax refund check
is what I'm looking forward to.
5. If you can't get rid of the skeleton[s] in your closet,
shoot, I don't know. I've only got one and he's WAY back there.

6. The best thing I got in the mail recently was
a check. Not enough, though
.
7. And as for the weekend, tonight I'm looking forward to
nothing in particular
, tomorrow my plans include
taking Aaron to his first karate lesson
, and Sunday, I want to
go to Daniel's soccer game and his track meet
!
Sorry I've kind of been AWOL this week. Lots going on around here. Joseph and Rachael are in the spring musical, which opens tonight. Daniel is running track AND playing soccer. And Aaron goes to his fitness class and starts karate tomorrow. So...you know....we're
busy
.
By the way, does anyone know enough HTML to figure out how I can fix the words in my header so they don't run off the side? Thanks to
Steven
and
Trukndog
for all their help in switching my template. My sidebar will hopefully be back up this weekend.
Have a good Friday all!
J.