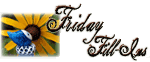 Yup, it's Friday again....and it's time for
Friday Fill-Ins
:
1. I love springtime in
Texas (fields and fields of bluebonnets!)!
2.
Cereal and oatmeal
are foods I love to eat for breakfast (I know, really exciting, huh?).
3. It seems I'm always searching for
a clean pair of matching socks!
4.
Going to bed with my sweetie
is a great way to end the day.
5. I think I
need to go on a diet, ASAP
!
6.
More time to exercise
is what I've been craving lately.
7. And as for the weekend, tonight I'm looking forward to
watching some of the movies Steven bought me
, tomorrow my plans include
Thunder Over Louisville
, and Sunday, I want to
grade all the papers I didn't grade over Spring Break!
Have a great weekend!
J.